My name is Jordan. My wife Miranda and I recently received approval for a D7 visa to live and work in Portugal.  
Here's the full our story including our "why." I'm going to share all the beautiful (read: pull out your hair) details on the how, and feel free to ask questions at the end, but I know many people are wondering if they should leave everything and move overseas. 
To anyone pondering a big move, we say do it. Big life change is a catalyst for growth. It's always worth it. Moving opens you up to new experiences but also helps you appreciate what you leave behind. 
For us, living in Lisbon is a dream come true. We absolutely love the weather, the abundance of tasty pastries, and the slower pace and lifestyle. 
This is our story.
Portugal as Alpha and Omega
We did not originally plan to move to Portugal. Our plan was much bolder. 
We would spend all of 2020 travelling around the world. In fact, we spent most of 2019 planning our adventure, selling all our stuff, saying goodbye to friends and family, and preparing ourselves to leave everything behind. 
We arrived in Lisbon on January 1st 2020. It was a romantic 1130PM flight from JFK on New Year's Eve. We celebrated the New Year flying over the Atlantic full of hope, wonder, and excitement. 
We ended up enjoying Lisbon so much our 30 days turned into more than 60. We travelled to the island of Madeira, went on a retreat for digital nomads, and otherwise enjoyed our extended time exploring Portugal. 
We spent most of the 90 days of our original EU travel visa in Portugal because we were enjoying it so much. I'm so glad we did!
Little did we know, everything was about to change…
The 14th of March, 2020 became the tipping point for the pandemic. We had tickets booked to Tblissi, Georgia and prepped for the next stop in our journey. 
The airline cancelled our flights at the 24-hour mark and Covid cancelled our dreams. 
I write the above with an equal dose of longing and contentment…
Miranda and I were so ready to explore the world. We were lucky not to have gotten sick from the virus, and our income was relatively unaffected, but the pandemic changed our story. It took away our dream to travel the world, but it granted us extra time in one of the best places on Earth. Something better happened despite the struggle. 
We adapted to the immediate task of surviving lockdown in a foreign country. We ordered groceries online, nestled into our Airbnb, and prepped for an unknown future. Our setup wasn't perfect by any means, but we did our best to appreciate the situation. 
But why didn't we just go home?
We weren't stuck in Portugal. The travel ban US officials placed on travel from Europe didn't apply to us as US citizens. 
I'm glad we stayed put. The ban actually backfired that weekend causing massive overloads in US airports when everyone abroad scrambled to come home. Sometimes you have to listen to your gut, even if it's telling you to stay in a foreign country during a global pandemic!
After the end of the initial lockdown in Lisbon we were able to explore. We stayed in Costa Da Caparica for a month in the summer, visited Peniche in the fall, and ventured all around Lisbon. 
2020 became the year of Portugal. We fell in love. 
Deciding to Stay
It's hard to say exactly when we decided to officially "move." We could stay as long as we wanted because of the lockdown, but travelling would be an issue. We couldn't visit friends and family back home without a pass to get back into Portugal. 
We needed to get a Visa to Portugal so that we could leave Portugal. Confusing, I know. 
There were a variety of factors at play, but we anchored ourselves in Lisbon for four major reasons:
Doing Something

. We wanted to make the most of the time. Instead of staying in Portugal on the tourist visa indefinitely, we pursued a bigger goal. Planning ahead made sense if we were going to be there anyways. Within five years you can apply for citizenship, and having dual citizenship would open up further travel options over the long term. 

Love

. We fell head-over-heels in love with Lisbon. Staying in the city only furthered our enjoyment and love for this location. We walk everywhere, enjoy the beautiful beaches, and meet many amazing people. Being here just feels right.

Pandemic persuasion

. Going through a global pandemic caused us to rethink our desire to be location independent. Not having a "home" of your own was something we were fine with pre-covid, but now it seems less than ideal. It's nice to have a place to call home.

Better homebase for traveling. Portugal is a great entry point for many other European countries. When things return to some semblance of normality, we'll be set to embark without having to cross the big pond that is the Atlantic.
Miranda and I are decisive planners who also love going with the flow. We're happy to adapt and make the best of any situation, but we love jumping into hardcore planning mode. Our intentionality moves us forward, but our accepting nature keeps us humble.
Our move to Portugal was not part of the plan, but God brought us here (and kept us here!) anyway. 
After we officially decided to stay and pursue residency, we had to figure out how. I love this quote by Friedrich Nietzsche:
"If you know the why, you can live any how."
Details didn't stop us. This isn't a post on mindset or personal growth, but hey, it's what I do for a living. I had to work it's way in here. You can overcome any how if you get your why figured out. What is something you've always wanted to do but convinced yourself you can't?
Getting Our Visas: The Deets
What follows is a detailed how to and time frame. Once we decided to stay in Portugal we got to work and boy, it was a lot of work!
The first decision was to get help or go it alone. We paid an immigration lawyer 2000 euros and we don't regret it one bit. Having someone on your team who had connections, spoke Portuguese, and knew the entire process was the best decision we made.
You pay people to make your coffee, mow your lawn, and do your taxes, why wouldn't you pay to get help moving to another country? 
Many people pursue their visas on their own without the help of an immigration lawyer. Many of these people have success. Some don't. We weren't willing to risk such a big life decision. We're finally growing up and adulting by getting help when needed.
We were also in a weird situation for getting a D7. Typically you need to be in the US to apply. Most of what we read online said it wasn't possible. Obviously, this wasn't true. 
They allowed us to mail our applications in because of Covid. So again, the pandemic was a blessing in disguise. It allowed us to bop around the city figuring out which areas we liked most, visit the apartment in person, and take our pick of bank accounts. 
Checklist of documents
This is the list of documents we sent with our application with notes on each:
Passport or additional travel document valid for 12 months after the submission of the visa request.

We had to notarize copies of our passport using a system called RON (Remote online notary). 

Two passport photos, up-to-date and with enough quality to identify the applicant.

We took these in a booth in Cais Do Sodre here in Lisbon. 

Valid travel insurance, allowing medical coverage, including medical emergencies and repatriation.

We have global insurance with Cigna. Still blows my mind how cheap insurance is EVERYWHERE else in the world.  

Request for criminal record enquiry by the Immigration and Border Services (SEF).

Our lawyers took care of this. 

Criminal record certificate from FBI police attested with Hague Apostille. Documents to remain unopened.

We messed this one up and things still worked out. We had to go to the US embassy in person, get fingerprinted, and wait a month to get results to then send back out. 

Portuguese or European Bank Account with some savings with more than 30k €.

This is the official guideline, but it's not necessary. We did not show 30K euros in our new account. 

Services agreements with clients.

Agreements from the people we work with outlining our responsibilities. 

2019 US Tax Returns.

This showed the proof of financial means. I think they look at this more than the amount in your bank account because they want to know you have the ability to make money. 
One year apartment lease.

We were planning on getting a long-term apartment so this one would come naturally. 
It Took 274 Days: The Timeline of Events
October 6th – First Meeting with lawyers. Confirmed that we have a good shot at getting the D7 passive income/remote work visa. This visa was made for retirees but Portugal now applies it to remote workers as well. 

November and December. Most of these months were spent finalizing plans and scheduling our fingerprints appt. at the US embassy. We also began a soft search for a new apartment.

January: We spent the better part of this month looking for a new apartment. As these things tend to go we didn't find much that felt right until the one that did. As soon as we stepped into our current apartment we just knew. It's perfect for us and we are grateful every day that we stumbled upon it. 

Jan 8th – Made first payment of 1000 Euros to lawyers. 

Jan. 13th: Got fingerprints taken at U.S. Embassy. In possession of fingerprints.

Jan 20th: Courier brought fingerprints to lawyers to send home. 

Jan 21st: Call with lawyers to discuss all needed documents. 

Jan 22nd: Meet in the office. Notarize Miranda passport online. Discuss new plan to send documents via my brother in Virginia through the DC consulate. Unbeknownst to us Lawyers sent background checks to PA anyways. This was the only major miscommunication we experienced. 

Jan. 23rd: Get color headshot photos at Cais do Sodre. Input information into Atlantico Bank App, Make the call on Monday.

Jan 25th: Call Atlantico Bank. Send over signed tax returns, etc. Call again, finish sharing information, must wait a week until the account is set up. Call again on Friday to see if any update on other options for the first deposit amount. We didn't go with Atlantico. They were slow, complicated, and unhelpful. A month later we received notice our account was open. No thanks!

Jan 28th: In-person appt. at Activo Bank to start the process but need to wait for the approval. 

Jan 29th: Got a call that all is approved with Activo, go in person, sign a million things, and officially open a PT bank account! Information sent to lawyers to add to documents. Activo Bank has been perfect so far. Definitely recommended this bank if you can go in person or have someone do it for you. 

Jan 31st: Move into Principe Real apartment, Feb 1st MEO shows up and wi-fi is running before mid-morning. Score!

February 15th: Disaster Strikes!! Background checks were sent to PA and opened. Do we have to redo this whole process now!? No, we sent them anyways. 

February 19th: In-Person meeting with lawyers. Brought photos and got Jordan's passport notarized after four attempts. Lawyers are sending the packet with everything to PA, should arrive by next Thursday. Nobody but us is worried about opened background checks. 

February 25th: Packet arrives in PA and we send mom instructions.

February 27th: Mom send packet from FedEx, due to arrive on Tuesday

March 2nd: Packed received at Consulate in Newark.

March 4th: Received that they needed new passport photos and letters of intent, but everything else is fine. 

March 8th: Emailed new photos and letter of intent to the consulate. Lawyers said they would write a draft for us but we did it ourselves since we didn't want to wait. We kept it short and sweet and only added basic info. 

March 14th: Stilllll waitingggggg.

March 19th: Waitingggg, waitinnggg, waiting.

April 6th: Just keep waiting, waiting, waiting.

April 12th: Lawyers sent email last week, our apps still on track for response on April 26th

April 23rd: Email stating OUR D7 HAS BEEN APPROVED!!

April 24th: Confirmed trip to back to the US to get our passports stamped. 

June 7th: Woke up in a Hotel in Newark (don't recommend) and travelled fifteen minutes to consulate. Walked right in and got our stamps easy peasy! Appointments with SEF (Portuguese immigration) set for July 5th and 6th. 

July 5th: Jordan's appointment In Setubal (an hour from Lisbon). SEF would not take Miranda as well despite the best attempts from our lawyer to persuade them. Honestly, no one else was around and there was no good reason not to take us both. Craziness. 

July 6th: Miranda's appointment. Took much longer than Jordan's, but ultimately we got what we needed. We celebrated with a bottle of Mateus wine and a home cooked coconut shrimp alfredo. 
It was a long process and I undoubtedly missed points, but we did it! 
The easiest part was undoubtedly the flight to the US and getting the actual stamps. Our TAP Air flight was empty, Newark was Newark, and we got bumped to the front of the line at the consulate. 
The most difficult hurdle was waiting for weeks at a time with the heavy burden of the unknown weighing us down. Neither of us like waiting for others to do their jobs, but that's not how things work. We had to slow down and wait for things to happen. 
What's Next?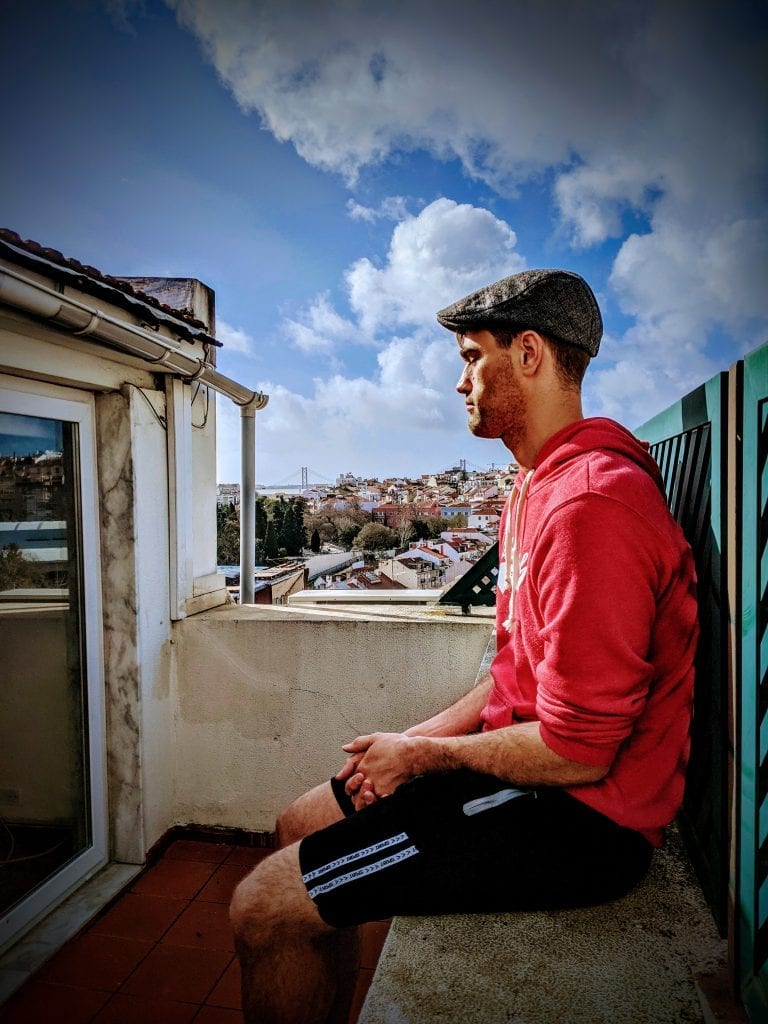 I usually want to know what's next. Most of the time I have some idea. I love to plan and look into the future of what my life could be. Covid helped tone this down a bit. 
I've been learning to appreciate the moment and where we are currently at in life. Lisbon is a breath of fresh air I'm not ready to exhale. 
For now, it's long walks along the river, padel ball, movies on the projector under the stars, deep conversations over a bottle of wine, and other new and exciting adventures exploring Portugal.
Only time will tell where we go next.