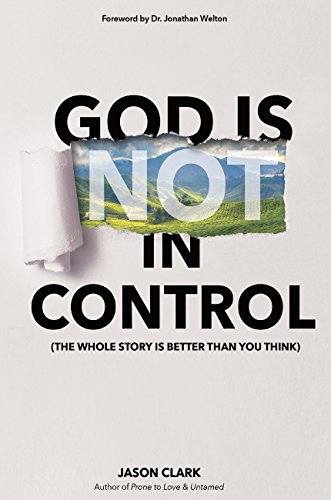 God is (Not) in Control: The Whole Story Is Better Than You Think by Jason Clark
Many thoughts come to mind just by reading this title. What does this guy think he is doing!? Challenging the sovereignty of God is not our business! God, the possessor of all of the Omnis (Omniscience, omnipotence, omnipresence) is of course in control of everything.
Or is He?
The author, Jason Clark, challenges this assumption from the very first page, and oh my what a thought provoking and interesting read this was. I loved it.
If you are easily offended, or prefer to keep on believing what you've always believed, then feel free to skip this one and look elsewhere. For all others, this book is a must-read to understand just how dangerous false interpretations of God's power can be.
As always lets start with the good, the bad, and the great.
The Good
Jason's book was altogether good. His ability to weave a complex subject like the sovereignty of God into an everyday discussion is phenomenal. This book doesn't read like a textbook or a deeply theological book. It's directly applicable because Jason shares stories from his own life to help the reader grasp concepts.
The storytelling throughout is the comedic relief that is necessary with such a heated and weighted topic.
The bad
As with Jason's other book "Untamed" that I recently read and reviewed as well, it was hard to find anything bad. I loved the book and found it eye opening in parts. I'll say two things though:
The book was repetitive at times, saying the same concepts in different ways. Good for those with an unfamiliarity with the subject matter and while I am definitely no expert, it did seem like too much of the same at times.
I think it's obvious that Jason really wrestled with the subject matter and was concerned with offending people. This could be perceived at times as of a lack of conviction in the book's premise. I wish the author had worried less about offending people, and spent more time defending his points. The author knows his stuff and as such shouldn't be afraid to tell it like it is. I completely understand the hesitancy, because some people are way too easily offended, but I think it was geared toward these people too much.
The Great
God is (Not) in Control fits in perfectly with everything that I am coming to know and understand about God. It helps us see God with a love narrative instead of the control narrative. God is not a God who desires control. He desires for us to choose to seek Him and the only way this is possible is the love narrative.
"I may not know the answer, but God is always good." This concept is huge, and Jason shares it often.
I resonated with the concepts within personally and as such, this book is now one of my new favorites. A common theme is one that I hope every Christian will come to understand: God is much more concerned with what we are doing for him (IE: helping widows and orphans) rather than with what we are not doing (Avoiding sin). Of course we do want to avoid sin, but God wants so much more from us. If we aren't careful we can get caught up in the pettiness of everyday life and miss the mark.
The point of life is not just to arrive safely at death, but to live a life in which God will be proud of us. We can only do this with a love narrative.
Jason's book was another book that cemented even further what I already know about God, and I am grateful for it. Pick it up and watch your doubts fade away. This book is the real deal.
-Jordan