Miranda and I just landed in Chiang Mai! Wahoo! We had a long but fun trip over here. What follows will be our adventures detailed for anyone that would like to follow along, but each post will be centered on tips we want to share that we learn along the way.
It's our first time in the beautiful land of Thailand and we are loving it so far. There is so much to see and so much to experience that we are slightly overwhelmed, but making it so far.
The trip started with our lovely friends Tom and Cathy giving us a ride to the Charlotte Airport. It was tough to say goodbye knowing that this would be the last time in a few months we would see them and anyone else from the Charlotte area.
Stepping into the airport we could feel the rush of starting a grand adventure. Since the early planning stages of this trip several months back, we have been on the brink of excitement wondering how this would go. Hint: it's been better than we could have expected!
The Jetblue flight was the best flight I've ever been on. It was comfortable, they handed out free snacks, and they gave us an entire can of soda. I mean, an entire can!? Come on man, that's pretty awesome. I guess it's the little things huh?
Travel tip #1: Play to Each Other's Strengths: Miranda is really good with directions and noticing signs, and I'm really good with math and handling currency conversions on the fly. This means she leads when we walk around and I handle all of the money. In general, we think that weaknesses are good to be aware of, but playing to your strengths is the way to go.
I've always wanted to fly Jetblue, and I'm excited I finally did. I am going to be using them for as many future flights as I can.
The flight was short at about 2 hours, and we landed in JFK quickly and painlessly. I've always thought that these short flights were kind of funny because by the time you go up you come right back down! But I'd much rather do this than drive 11 hours up north.
Our Air China flight would be leaving JFK to Beijing in 4 hours, but it took quite a bit of time to get through initial check in and then through security, but it came with some bonuses we weren't expecting!
"Ohh Miranda! Your name's really Miranda!" Said Sara our representative at the check in station.
Miranda replied with a tentative "Yes" and a huge smile. Turns out, if your name is Miranda and you have a tall husband (I was asked my height and felt like I was in trouble) you get a free upgrade to emergency exit row seating. I was stoked. Sara really came through for us. She also mentioned using haldi for my cold which I've never heard of, have you?
Travel Tip #2: Lighten Up: Buy a name-tag and wear extra high heels for good measure. For real though, just be as friendly as you can be. Sometimes a disarming smile is all it takes to get a free upgrade or an extra drink. I think it's always worth it to be extra friendly even if you don't get anything from it besides a smile back. This will go a long way towards keeping you are and your travelling buddy happy and on the same page.
We then had to head back through security which was quick, but never easy. We are always afraid something will get left behind or we will start walking around the airport without our shoes. Silly fears, but we always feel relieved after making it through the checkpoints and at least near our gate.
We boarded the Air China 14 hour flight with even more excitement. We were flying to China! It's not everyday you can say that. The flight was roomy with our extra space, and I was able to easily stand as often as I wanted.
We spent our time drinking lots of water, eating several meals, watching the first 3 episodes of This is Us (so good!), napping, getting free snacks, drinking orange juice to kill my cold, and listening to audiobooks.
Side note: One thing I have been trying to find balance with during travel is working vs. just passing the time. Sometimes I think it's good to take a break and watch a movie or otherwise chill out, but I also have a strong conviction that we need to maximize our time, but I do understand that travelling in and of itself is exhausting. Just a random thought, add a comment if you have an opinion either way.
Travel Tip #3: Drink Water: We had several friends comment on the importance of drinking water while traveling long distances. Miranda and I are pretty heavy water drinkers, but I can say that a focus on this definitely helped me to keep my energy up. An old maxim is that if you feel like you are drinking enough water you probably aren't.
The flight was 14 hours but mostly uneventful. This lead us to Beijing which was pretty sweet as neither Miranda nor I have ever been to China!
We had a 12 hour layover ahead of us, but it gave us a good amount of time to make it through security (again! For the third time people really!?) and scope out the terminal. By the end it felt like home a little bit.
We certainly could have left the airport and scouted out the city, but that's not the kind of travel we are in to. Neither of us prescribe to the "have to do everything possible" mindset. We are quite content to take our time and see what we can when we can. Yet another reason we are excited about this upcoming trip and the chance to really get situated in Thailand!
I was feeling jazzed during most of our time in the airport while Miranda was pretty out of it. For some reason I had all the energy in the world and was ready to go. I caught up on some of my emails, finished reading a book, and did some currency exchange research.
Travel Tip #4: Go with the Flow of Who's on it: This means to lean on each other when needed. When I was wide awake and on it I handled things and kept us in positive spirits. When I would start to feel a daze coming on, Miranda would take charge. Don't fall into the idea that one person needs to be strong all the time, it just isn't possible. Lean on each other when needed!
What I found out is that Thai baht when purchased in Beijing would come to around 100 buckaroons for 2300 baht. It's a terrible deal. Baht runs for right around 32 baht per USD which means it should be around 3200. So nope, I didn't get any baht in China.
When it finally at long last became time to board our last flight of the day we were thrilled, but it wouldn't last too long. My energy finally fizzled out and I spent almost the entirety of the flight in a strange sleepy haze.
Overall the flight wasn't memorable by any means, but did take us to our destination!
Travel tip #5 Pack Your Bags the Smart Way: Miranda is a kickbutt organizing guru so I knew she'd be up the task of going on a 2 month long adventure with nothing but two small backpacks. So far so good, and it made the trip over here SO much easier. No checking bags, no fear of losing important items, and a continued appreciation for having less.
The air always smells different in a new place. The air in chiang mai isn't necessarily refreshing, but it reminds me of how much we haven't yet experienced. There are countless sights, sounds, and experiences this world has to offer. We need only agree to taste.
Our Grab driver (the Thailand Uber equivalent) was extremely friendly and got us to our final resting place at the Farm Story House lickedy split. We tipped him a few extra baht which surprised him greatly (I guess they don't tip much in Thailand?) and we went on our way.
We got to our room and fell asleep pretty quick (after a quick walk over to 7-11 to get some water!) and that was that because as you can see we were pretty tired!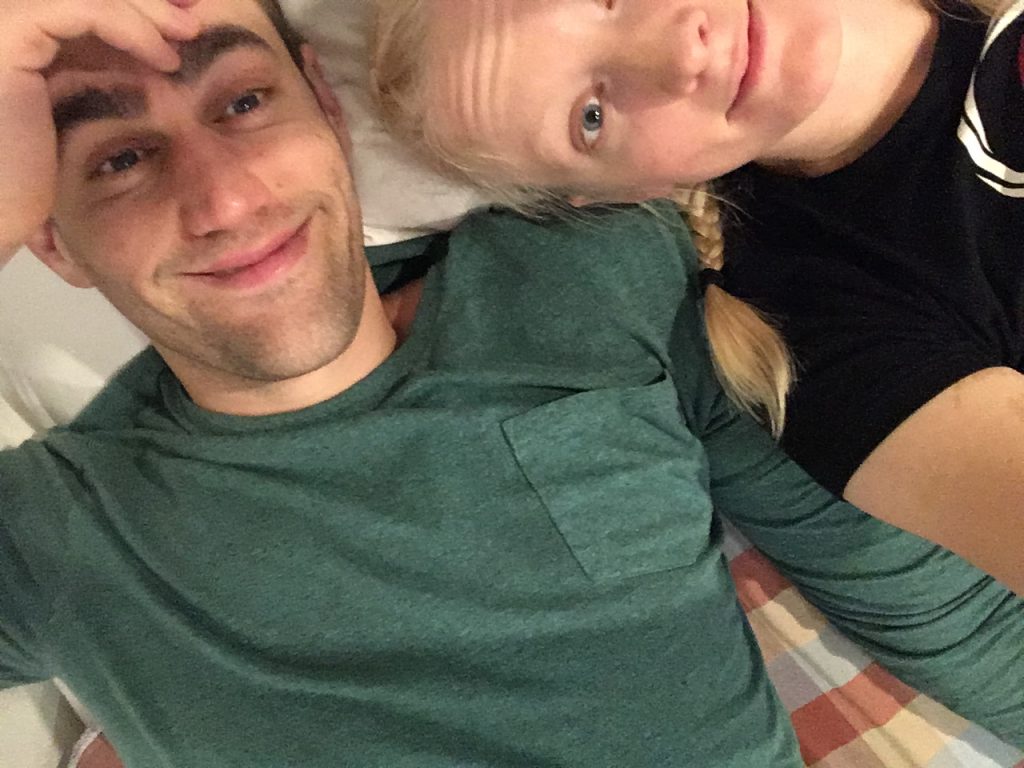 This story will be continued as our adventures unfold, but suffice it to say that we are glad we made it here safe. I also hope the above tips will be helpful to you as you consider doing some travelling of your own!
Best and will speak again soon!.Can't wait to share about all the exciting adventures in Thailand.
-Jordan
PS: As of this writing I've already experienced day one, and it was great! More to come…