*KDP Rocket is now Publisher Rocket with even more upgraded features. 
Let's just start off by letting the cat out of the bag. I love KDP Rocket. I'll share more about why in a little bit, but it's a perfect addition to any author's toolbox.
So what is KDP Rocket and what does it do? You can see the full list of features and a video introduction on the program's page here, but I'll give you the quick run down below with my own screen shares for each showing you how I use it.
In this post, I'll share why I recommend picking this tool up now before it goes to a monthly subscription (I personally hate paying monthly for anything… I think back when I used to play WOW and yes $14.99 per month hurt a bit too much).
I will also show how I use it find great ideas for books, research the competition, pick the best categories, and how it helps me with getting my AMS ads off the ground.
For a quick sneak peek, this is what it looks like when loaded up. It simply runs as a program on your computer, but Dave updates it so often it never feels old or clunky.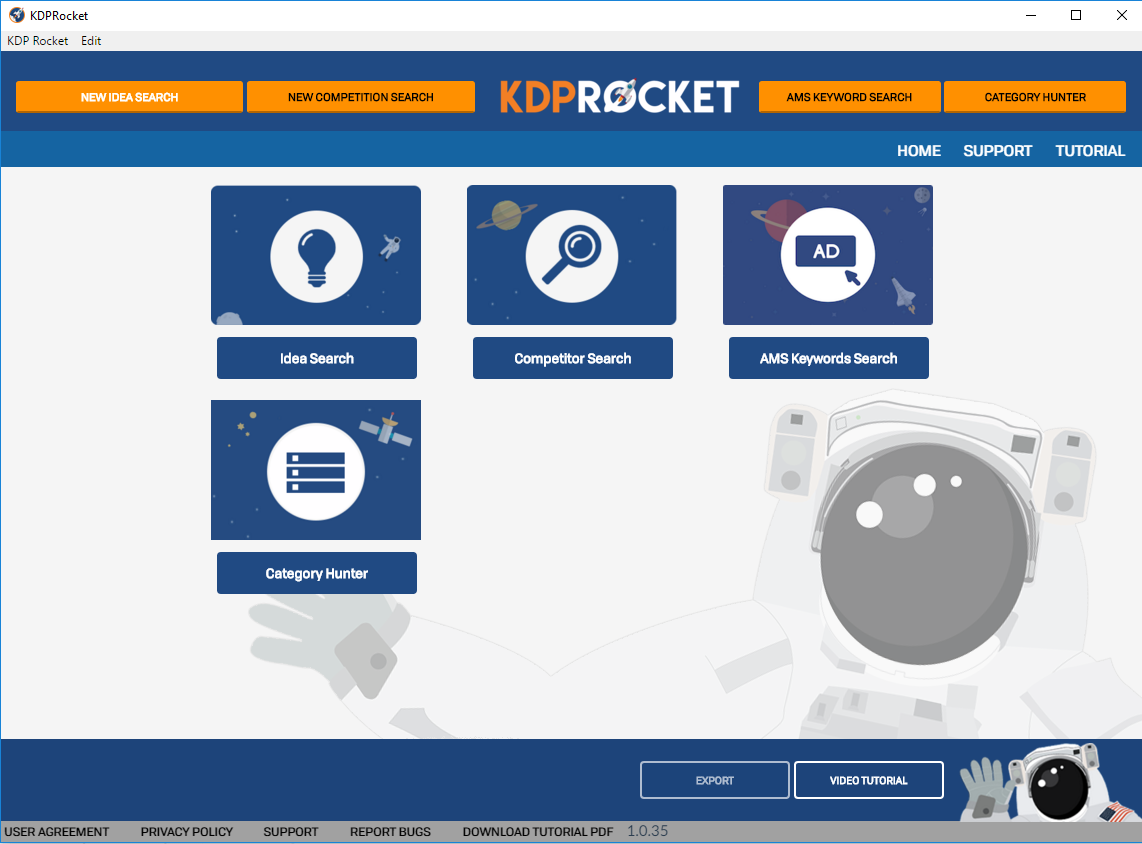 As you can see in the image above, KDP rocket has four main tools:
Idea Search
Competitor Search
AMS Keywords Search
A newly released feature called Category Hunter
We will break down each of these tools below so you can truly see why It's so worth it to pick up KDP rocket now, especially if you plan on continuing forward in your author career.
Sure, you could pay someone else to do this for you, and sure, it might be cheaper in the short term. But buying KDP Rocket is a one time fee that gives you access to any future updates too. Well worth it in my opinion, but I'll show you more about it and you can make up your own mind.
1) Helps You Find Great Book Ideas
This is where things get started when using KDP Rocket. As seen below the "idea search" button is how to get started.
You can type just about anything into this box, and KDP Rocket will spit out ideas related to that keyword.
It will list:
Keyword ideas
The number of competitors for that search term
Google searches per month for the keyword
Estimated Amazon searches
Competitive score (the lower the easier it is to rank for said keyword)
I searched for a very generic term "boats" and you can see what it shows below: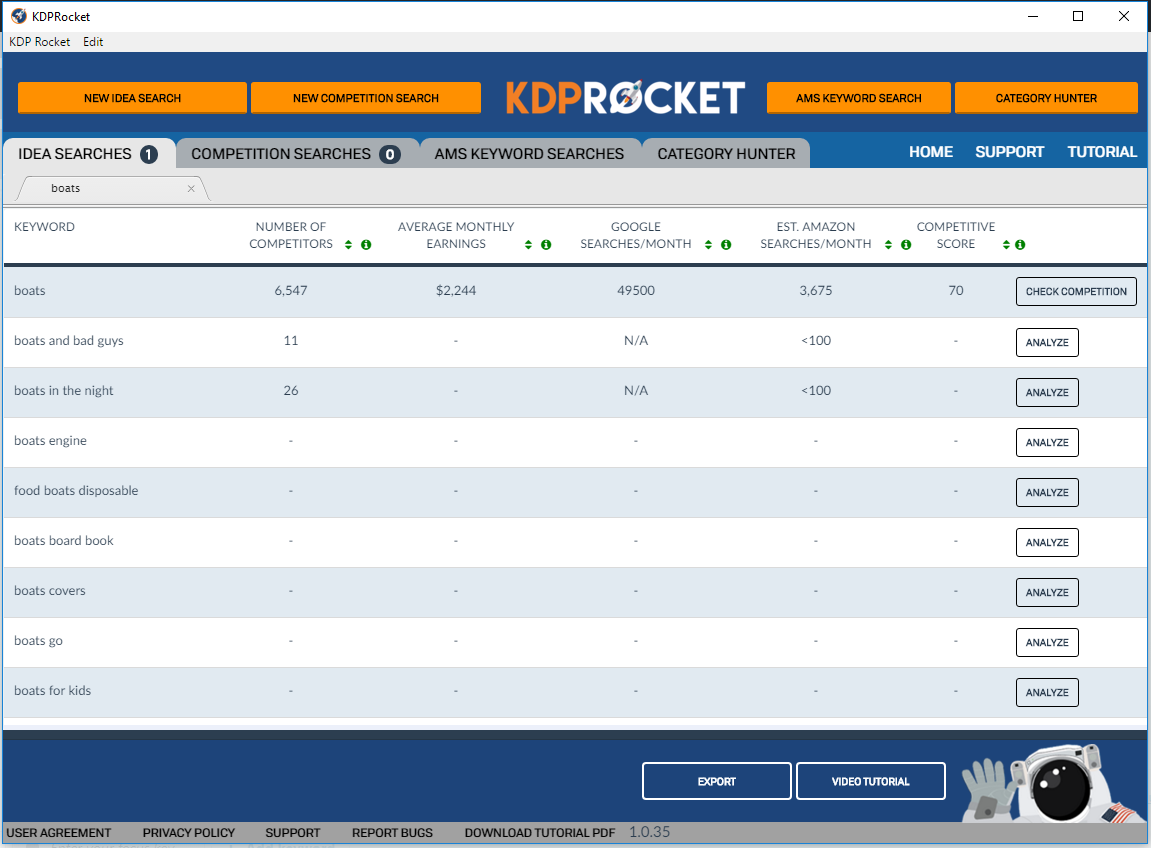 If you find a keyword you need more information about click the analyze button, and it will fill out the entire row for you.
This idea search is particularly useful to match your own personal book ideas with what might sell on Amazon. If I wanted to write a book about "boats" (which I assure you I don't, so go ahead and steal that one) I could see that sailboats is searched for on Amazon 2,317 times per month, which a competition score of 40. Not too bad.
I could look up other types of boats and this will help me figure out how to not only write and format my book, but also what types of boats I might want to mention in the subtitle.
For example, if my book's title was "The Master's guide to Boats of all Types: the lowdown on Sailboats, Barges, and Pontoons," I could figure out which of those types of boats people were searching for the most within Amazon.
KDP Rocket makes it easy to do these types of searches and it's a great way to have an idea infusion for your book. What's more, you know these ideas are legit because there are actual people out there searching for them.
For more on idea searches within KDP Rocket, see the video below for how I personally use it.
2) Get the Lowdown on the Competition
Probably my favorite part of KDP Rocket, the competition search is the best way to scan books on Amazon to see how they are doing.
Once again, you can do this on your own by browsing Amazon, but KDP Rocket allows you to see everything in one place and compare books and keywords.
Where the "idea search" is the launching pad, the competition search is where things get even more interesting.
Sticking with our idea of "boats" this is the competition page within KDP Rocket:
This page within KDP Rocket lists out the following items:
Title
Subtitle
Author Name
Age: Age in days of the how long the book has been on Amazon
ABSR: Amazon Best Seller Rank
KW T: Is the keyword in the title? Yes or no
KW ST: Is the keyword in the subtitle? Yes or not
# of Reviews
Review Average
Price: Price of Kindle Book
Daily Sales
Monthly Sales
Link to the Amazon Sales Page for that Book
All these put together quickly show you the most important details surrounding your competition within Amazon. All these factors make up the "competition score" as seen in the idea search function, but this allows you to see exactly what books you will need to beat to make it into the first page in Amazon search.
You can also click on anyone of the books listed and it will bring the cover image up in the bottom left so you can see the cover qualities and such as well.
The question I ask myself when browsing competition is: Can I beat most of the books here? Can I make a better cover, better title, and get more reviews than the books listed here? If the answer is yes, you have yourself a solid book idea.
*Another important distinction made here is are most of the books listen non-fiction or fiction? if the answer is the opposite of what you are writing, it might mean that Amazon gives that genre more attention for that keyword. The "boats" keyword seems mixed, but it's worth paying attention to regardless.
Here is a video showing how I use this competition search function.
3) Use KDP Rocket to find AMS Keywords
The feature is for the author that wants to utilize Amazon Marketing Services (AMS) to promote their books. At the time of this writing it is one of the best ways to promote your books and get them in front of Amazon customers who are ready to buy.
Dave goes over this process in full with his free course on AMS, so I will just be talking about how KDP Rocket can help you with this. If you have the time I'd consider checking out the course and familiarizing yourself with that marketing platform.
What KDP Rocket does here is give you a smattering of good related keywords to jump start your AMS campaigns. Just type in a very generic term related to your topic, wait for the program to generate the keywords, and then export and save.
Voila! Now you have a great set of keywords to begin an AMS campaign.
To start my own AMS campaign for my book "Book Launch Gladiator" I typed in "book marketing" (a very generic keyword) and then exported the results.
I copied and pasted all of those results into the AMS platform, and have been running it for about a week. Hard to judge the effectiveness of my campaign because my book is a permafree title, but every extra marketing boost is helpful.
Here is a video briefly showing how I went about this:
4) Brand New Function: Category Hunter
This brand new feature that Dave and his team just rolled out is great. It makes searching for categories for your book 10X easier than ever before.
Instead of browsing categories on Amazon trying to find the best possible fit for both relevancy and low competion, we can find the best category types right here.
KDP Rocket lists out for us:
The ABSR (Amazon Best Seller Rank) of the #1 Book in the category I.E. the one you need to beat)
Today's No. of Sales of #1 Book
ABSR of #20 Book
Today's No. of Sales of #20 Book
The link to the category page on Amazon
I typed in "What should I do with my life?" and got the following results:
The basic idea here is to find categories to put your Kindle book into that will fit your book's content, and be the most competitive. KDP Rocket lets you do this quickly and efficiently by giving you a list of possible categories for the keyword you type in.
Check out the video below for a walk-through:
5) Final Thoughts On KDP Rocket
As I am sure you realize by now, I love this program. It's hard for me to find any problems with it. Sure, at times it has frozen and/or crashed, but most programs like this do this occasionally.
If KDP Rocket was a monthly fee type program, I might hesitate, because between book launches it might get a little dusty, but for a one-time fee? Heck yeah, this one is a no-brainer for me.
If you want to invest in your author career you want to have the right tools in your pocket to be able to do it right.
KDP Rocket is just one such tool. 
You can get it by following this link. Please note that this is an affiliate link, but at no additional cost to you I will receive a commission. Thanks for your support, and good luck rocketeer!
-Jordan